See how our new site helps HVAC pros »
Gree
Gree is one of the most respected names in the industry for PTACs. The Gree PTAC has a reputation for being worry-free, dependable, and one of the most technologically advanced PTAC products on the market.
Carrier Enterprise is proud to be one of the exclusive distribution partners of this product in the U.S., Caribbean, and Puerto Rico.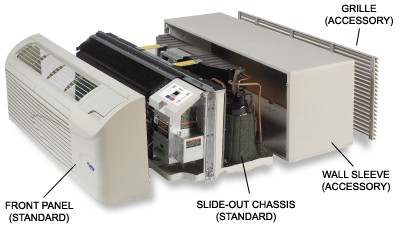 The Gree GA Series PTAC - The same great product you have come to expect from Carrier Enterprise!
Easy to install, service, and maintain.
Retrofit to almost any application.
Advanced technology to provide quiet, efficient comfort.
The premium efficiency GA Series can significantly save on utilities and is protected by a five-year limited warranty. Whether placed in a home, hotel room, healthcare facility, or professional office setting, this equipment always delivers superior Gree comfort.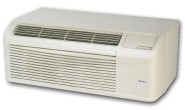 Gree GA Series Key Features
Comfortouch Digital Control
Temperature Display and Touch Pad on Unit
Continuous Temperature Sensing
Cooling, Heating, and Fan Modes
Auto Restart
Smartfan Comfort Control
Programmable Constant Fan Operation
Quiet Fan Start-Up and Stops
Silencer System
Three-Speed Indoor Fan
Dual Motor Technology
Compressor Sound Blanket
Insulated Bulkhead
EZSERV
Easy Troubleshooting With LED Onscreen Displays
Nine Point Diagnostics with Self Check/Correct
Front Access, Cleanable Lifetime Air Filters
Why Choose a Gree PTAC?
Doesn't Disturb Guests
Advanced fan technology delivers superior Gree comfort to hotel rooms, healthcare facilities, or private residences.
Doesn't Disturb Owners
The efficient GA Series can significantly save you money on utilities.
Unique fresh air vent system provides up to 65 cubic feet per minute of fresh outdoor air into the living space.
Connect your Gree GA Series to a wall thermostat for ultimate comfort control and upgraded room appearance.
Gree Dependability
All Gree GA Series PTACs are protected by a five-year limited warranty.

Gree Comfort Products
Packaged Terminal Air Conditioner (PTAC)
Room Air Conditioners
Window Air Conditioners
Dehumidifiers